Brimming with the a varied selection of musical genres across the site and headline sets from Eminem, Muse and Kasabian, at Reading Festival this year we delved into the best alternative noises the festival had to offer.
With their debut album 'Popular Music' only out a few months ago, Hull's LIFE are fresh and fiery. The title track 'Popular Music' is a fitting anthem for the disaffected festival-goer; Mez's vocals oozing Mark E Smith attitude "totally off my face I listen to popular music". Showcased by their raucous onstage presence, LIFE package political comment and pop hook laden punk into a captivating live set - highly recommended.
Continuing our delve into all the punky primal noises, FREAK - the alter ego of Connar Ridd gave us energetic garage rock with straight to the point lyrics. First song 'What Happened' was almost over when the power cut but they guys handled it admirably brushing it off with the quip "f**k the power" and the set was really well received.
With their cutting sense of humour, the confrontational 'Well Done' and 'Mother' were highlights - delivered with piercingly fierce and impassioned vocals in an all-round epic adrenaline fuelled and highly entertaining set.
'1049 Gotho' about depression was cracking live, singer Joe urged the audience to make sure they speak to someone and get some help - IDLES are one of a host of bands at the moment using their influence to speak up about important issues which is really great to see.
Raw, relevant and brutal, they're off to support Foo Fighters later this month.
It was amazing to see so many furious punk bands, with each with a sharp sense of humour to them and something poignant to say and all before the sun has even started to set on the first day.
Over on the main stage L.A.'s duo Deap Vally were a well polished machine with two snarling and captivating cogs; Lindsey Troy and Julie Edwards. From fuzzy guitars to massive riffs Deap Vally craft a mixed sonic experience from mellower blues right through to full-on punk angst. Yet again we were impressed with another 2-piece who can deliver a massive and raucous depth of sound, the snarling rock and blues is reminiscent of The Kills and Lindsey has a level of showmanship to justify that comparison .
Tigers Jaw were folky indie-rock with a touching purity to it - sometimes vulnerable, building and falling between pop melodies and heartfelt musings. 'I Saw Water' pulled in Brianna's vocals with Ben's for outstanding harmonies between the two expertly using the rise and fall of the music to effect.
On the Festival Republic stage Cigarettes After Sex's ambient electro dreamy-pop floated over the crowd and really did have a feeling of lazing in bed with a touch of melancholy. It was beautiful to witness and an ethereal contrast to the raucous bands we saw earlier in the day.
'Fire' was met with flares let off amongst the crowd which was an amazing sight to see. Kasabian are one of the few bands that really translate differently live, the sound was almost more acoustic in feel - the rich textural noise that normally accompanies their music is still there but somehow different in a good way, 'Underdog' was more of an epic experience with extended solos and great crowd interaction. As well as a bit of Daft Punk's 'Around The World' spliced into the set, the Nirvana cover 'All Apologies' was strangely fitting, an acoustically gentle take on the song with sing-a-longs of "in the sun we feel as one" a great choice for what was a scorching day.
Canadian punk rockers Billy Talent headlined The Pit with their upbeat and diverse anthems. 'Rusted From The Rain' was a more plodding grungier sounding track that although ballad-esque still packed a punch. 'Falling Leaves' and 'Red Flag' were always going to be a highlight of the set, the closing track 'Viking Death March' was a frenzied performance delivered with such explosive energy and passion it was a fitting end to our first day.
With a fiery performance from vocalist Haley Shea Sløtface made a point of asking the crowd if they are drinking enough water in the scorching heat and as it's so hot "ladies, if you want to take your tops off do it and if anyone give you and unwanted attention you have my permission to punch them in the nuts really hard". Handing out disposable cameras for the audience to take pictures and pass back at the end of the set they stressed not to "keep it like those f**kers in Leeds!". With slicing punk mixed with grunge and more sombre tones, this spirited melodic punk-pop set was great to watch.
As 'Move, Shake, Hide' roared out singer Becca's stage presence oozed charisma and attitude in boundless amounts. Their brilliant angsty brand of punk-laden hardcore went down really well with alt-math leanings and raucous guitars underpinned by driving drums, not to mention Becca's incredible talent for switching from vicious gravel to melodic sugar in a split second this was a great show topped off by the ending full of furious energy that is 'Why Do You Hate Me?'.
Frank Carter & The Rattlesnakes
Frank did his usual bit encouraging the ladies to crowd surf saying they should feel comfortable and if they had any men giving them trouble he'd "bite their f**king head off and give it to my dog as a chew toy". It is a great sentiment including all the audience and he was clearly humbly proud to be in the influential position he has earned. Frank dedicated "Lullaby" to his daughter who was watching from side of stage, blowing her kisses and waving throughout the set. With the set ending on the angry and to the point "I hate you" it was an all round highly entertaining and uplifting show.
From garage punk to fuzzy rock and roll riffs the set was bluesy, psychy with a retro vibe and the highlight for us 'Can't Hold On'. Despite some technical difficulties early on they gave a great performance and left us pepped ready for the final day of the festival.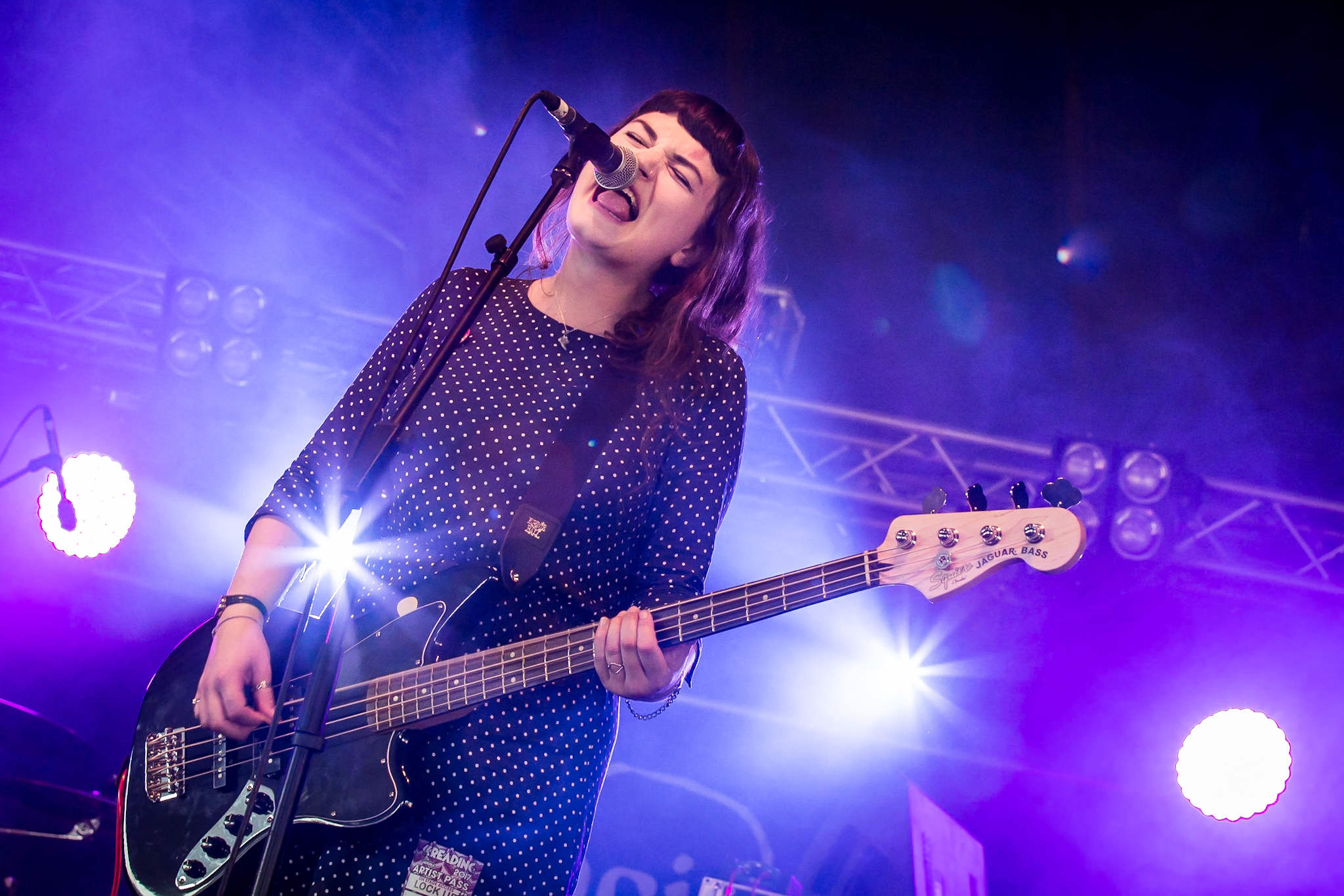 Muncie Girls were great live, the band have a stage presence and demeanour with a natural feel to it - effortlessly cool, indie punk that is as engaging as it is endearing.
Raveneye really got the crowd going with great banter and a frenetic performance. They told us we were "popping their Reading cherry" and that they could "see each and every one of you out there ... we have raven eyes". With catchy, bluesy rock dynamic and oozing with character we would highly recommend checking them out live.
Singer David talked of how important it is to have people who are kind and support you - really positive words and totally endearing and engaging. They told of how this was the last day of their UK / European tour- their drummer had a freak out and got violent, the fantastic Ben was sitting in for this show, a broken ankle and other eventful stories!
Perth's Tired Lion were next up on the Lock Up stage, a highlight for us was their single 'Cinderella Dracula' which swings from delicate and gentle one moment to brutal and violent the next, combining front-woman Sophie Hopes raw and emotional songwriting with the bands driving guitar and bass lines and fierce drums.
Vibrant and enthusiastic as ever, with a great mix of old and newer songs - you can see why they have such staying power. Kicking off with 'Kung Fu' the pure passion with which they perform is awe inspiring, Mark Hamilton has possibly the best bass-stance we have ever seen, all the guys are full of pride and commitment to their craft ... true masters of catchy pop melodies. With a massive catalogue of indisputable hits at their disposal they still have all the captivating passion and raw infectious enthusiasm of those three guys in their late teens all those years ago, banging out energetic indie garage rock with such fervor.
Gnarwolves closed off our punk experience of the festival, fittingly introduced as the most clear embodiment of punk on the The Lock Up stage. It was riotous set from the ever touring live favourites who put on an awesome show as always. Stopping mid-song for a small Oasis rendition (Liam was playing the Main Stage by this time) they were full of banter ... tour stories, of broken down vans and the usual adventures in amongst an energetically crowd pleasing fierce set.