LOUD NOISES! BEST ALBUMS OF 2017:
IDLES - BRUTALISM:
'Brutalism' is fresh and infectious with so many intelligently constructed songs, gravelly vocals and a spitting ferocity all bound up in a furious and glorious punk album.
This is storytelling with a passion, confrontational songs laced with slicing social comment and cultural references twisted and made relevant with a cutting sense of humour.
MEAT WAVE - THE INCESSANT:
Meat Wave -The Incessant is a bracing, emotional garage punk record that confronts taking responsibility for your actions with dark humour and self-deprecation.
'At The Lake' is an outstanding track, bouncy as hell and 'Birdland's disturbly slow and menacing pace leads into the album's closing track 'Killing the Incessant' rounding off a great album.
K. FLAY - EVERY WHERE IS SOME WHERE:
Full of brutally awesome attitude the whole album is as varied as it is infectiously good. 'Blood In The Cut' has a stomping bass-line the pace of the song highlighting K.Flay's distinctive viocals.
'Black Wave' is amomgst other highlights, a song about; "facing something immense and menacing and choosing not to cower, but to rise up".
Other great albums this year included; LCD Soundsystem - American Dream / Thee Oh Sees - Orc / Metz - Strange Peace / Protomartyr - Relatives In Descent
LOUD NOISES! BEST TRACKS OF 2017:
ESTRONS - STROBE LIGHTS:
The driving dynamic guitar and drum interplay was totally energizing when we saw Estrons play this single live this year.
With tireless animated energy, Talisyn is a great front-woman and the rest of the band really clicked together well to produce an awesome and frantically bouncy melodic punky set.
TIGERCUB - INTO THE ASHES:
'Into The Ashes' is crushing – cyclical drums and bass maintain the intensity, with the band using subtle rhythmical changes and developing the arrangement to keep things exciting. According to frontman Jamie Hall, "Lyrically 'Into the Ashes' is a series of vignettes on being born into a world that's already fucked and burned out".
THE ORIELLES - SUGAR TASTES LIKE SALT:
This year Halifax three-piece The Orielles released their debut single 'Sugar Tastes Like Salt' on Heavenly Recordings.
It's a fantastically retro and atmospheric track that blooms into a fully funky indie wall of delicious noise.
FRAUDS - SMOOTH:
'Smooth' is from Frauds' recent debut album 'With Morning Toast & Jam & Juice' which showcases their ability to make 2 people sound like about 5.
Lurching from sparse verses to a wall of noise in the chorus this is very fine high energy punk rock and you can tell they are having a whale of a time doing it.
LOUD NOISES! BEST LIVE SHOWS OF 2017:
We went along to some great shows this year, here's a little taster of what we got up to ...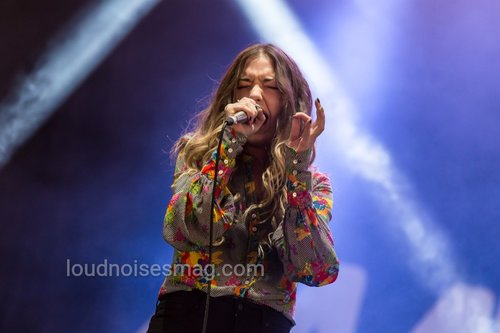 At Reading Festival this year, IDLES stole the show, there were also great performances from Marmozets, Billy Talent, Tired Lion and Culture abuse, check out the full review here:
An intimate show in a street in Southsea in celebration of Record Store Day
Honest and sensitive, smart and engaging, jovial and sweary, inspiringly upbeat, Kate's vixen voiced, highly relatable to girl gang set was a really great show.
And so onto 2018 ..
There are a good few things to be looking forward to, our most anticipated release will be the St Pierre Snake Invasion album and next Festival is only 2 weeks away now - see you down the front at the fantastic boutique festival Rockaway Beach!