Rockaway Beach Festival took over Butlins Bognor Regis again this weekend for the second year running with an impressive line-up including Suede, The Wedding Present, We Are Scientists, Wire and Killing Joke to name but a few. Having been to last year's we were expecting the same great atmosphere and eclectic line-up and were not disappointed at all!
Butlins is a really great place to host such a diverse alternative boutique festival, the staff are so helpful, warm and friendly and despite this being an adults only break there was such a sense of community it felt like a family with so many people of all ages coming together, all for the love of great music. There really was no need to leave the site with so much going on ... established and new bands, film screenings and Q&A sessions, all set in the luxury of a holiday camp - a sound roof over your head and mud free festival that makes you wonder whether you would slum it outdoors again soon.
With alternative music being played all over the site - not just on stage (even in the Spar) - this was a great touch which really added to the ambience and helped this to be a fully immersive and captivating festival experience, this was Butlins but not as you might expect.
We kicked off Friday at Centre Stage with the hotly tipped Kagoule. Their sound has a bass-fuelled retro vibe that is refreshing in its purity with a unique rousing sound. This trio of childhood friends gel so well together, the quiet / loud dynamic of 'Gush' and 'Adjust The Way' really pack a punch live and along with newer track 'Magnified' they really teamed the dual vocals and heavier aspect together expertly, dipping into a more twangly intricate sound in places - especially in 'Concrete' with bassist Lucy rocking bags of charisma. These are definitely ones to watch out for, check out 'Magnified' here:
Manchester's electro-pop inspired Girl Friend were up next and were a good testament to the diverse variety of musical styles on offer over the weekend in this smaller more intimate gig-like stage.
We Are Scientists were a massive highlight of the weekend, their crowd interaction and sheer levels of enthusiasm are completely captivating. During 'Textbook' Keith came out into the crowd and Chris explained "he always does that .. he's collected 17 wallets this time". So many great tunes; 'Buckle', 'Chick Lit', 'I Don't Bite', 'The Scene Is Dead' and 'Great Escape' really got the crowd moving. We've seen them live a few times now and each time it is still fresh as they bring so much enthusiasm and passion to their performance and clearly have a great sense of humour. Combining just the right amount of banter to entertain, their sense of humour permeates through the set which adds an extra dimension and wins over any ditherers in the crowd every time. They pointed out their awesome artwork that was showing intermittently on the screens around the venue and requested it be put back up, dedicating the next song to the advertisers that just got cut off. Musically the delivery was spot on, as always. Chris asked us "do you think your soul is going to survive this weekend?" intimating that they would see us through ... "this next song is pretty danceable". Keith had some wise philosophical words for us too "music is like dewey petals .. they're round and dewey .. the upshot is, that music is good". They signed off saying they were off to hang out by the Time Crisis machine if people wanted to hang out ... unfortunately that part had already been closed off - we had already tried to find Time Crisis earlier that evening. A great set from an awesome band that always leave you with a smile on your face - there was your money's worth for the weekend right there on the first night.
Next up on this music packed first day were original indie pioneers The Wedding Present who delivered with gusto their bittersweet honest songs ... the darker guitar driven poetic sound a real treat for the beach-goers.
Saint Etienne performed Foxbase Alpha in full, many saying it was their highlight with Sarah Cracknell poised with alluring, classy confidence as ever. The pure pop melodies of their 60's soul influenced hits went down a storm, not entirely our bag but good to watch all the same. The great thing about Rockaway this year was the absence of the Skyline stage leaving plenty of time to take in each and every act which is a great way to find yourself surprised with an act you might not normally have made the effort to watch.
Black Honey also had a 60's inspired tone to their beautifully textured and complex indie-pop melodies. Singer Izzy really made the show come alive with her honeyed vocals and captivating stage presence. They'd just jetted back in from the US where they made their debut video 'Hello Today' which came out this week, check it out here:
Saturday dawned and we kicked off our day with Gang's awesomely sludgey stoner rock on the Centre Stage. They dedicated a song to "anyone with a watch or a phone ... without knowing what time it is you'd all be free, time is a concept man". Their demonic harmonies are sarcastically pertinent especially in 'Dead' which they introduced to us with the most poignant lyrics of the festival so far ... "I don't want to feel better, I want to better feel". The song was fuelled with haunting chanting harmonies, as if from monks who had been on the Buckfast, a great dirty doom-filled rousing set and a great start to the day.
Bloody Knees were fantastically bassy and grunge-esque with a more modern spin and great breathy break-downs. The guys said they couldn't remember when they were last here, "you're too young" came a voice from the crowd, "nah ... I used to come here as a kid with my parents ... that's a boring story - let's play a song!" 'Daydream was a highlight a really well rounded indie rock song with a lingering melody. You can check out their husky screams here:
Wire really are timeless with their heavy and powerful textures. The simplicity of their classic art rock indie underpinned by dark and gloomy undertones has been highly influential and still retains that sought after punky edge. They played a great set and we enjoyed watching them for the first time as much as they clearly loved performing together.
Next up on Centre Stage were Luna with their dreamy indie-pop Americana. Another great contrasting act that although had a slower pace was still a pleasure to watch.
Some beach-goers had clearly been waiting a while to see Suede, the Brettettes were glued to the barrier. Suede fans are a highly excitable bunch, so much cheering even for the appearance of a drum tech on stage and when Suede started it wasn't long before the whole floor started bouncing as they were shaking their bits to the hits. From the second Brett bounded on stage he owned the whole room, working the stage like a true master, constantly traversing the space and up on the monitors reaching out to the beautiful ones. In the first few songs we had already head 'Trash' & 'Film Star' and the rest of the set did not disappoint.
On Sunday we started off with TVAM, which is Joe Oxley and a VHS player, he combines visual footage and fills the room with unique electro-pounding noises as if he were his own one-man musical force. A highlight was 'Gas & Air' check it out here:
Man Made asked the audience "how are you enjoying your post-apocalyptic break? We came in through a different entrance when we arrived and couldn't see anyone ... thought something horrible had happened!". Nile Marr (yes that Marr) certainly gave the impression he loved performing in what was yet another great set of the day with their own melodic brand of indie-rock.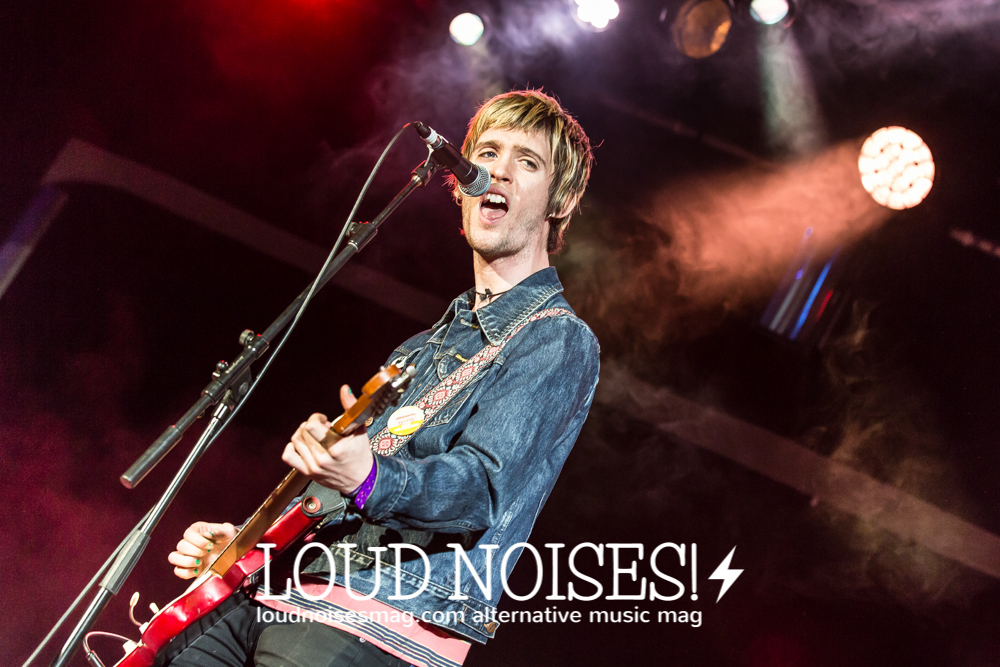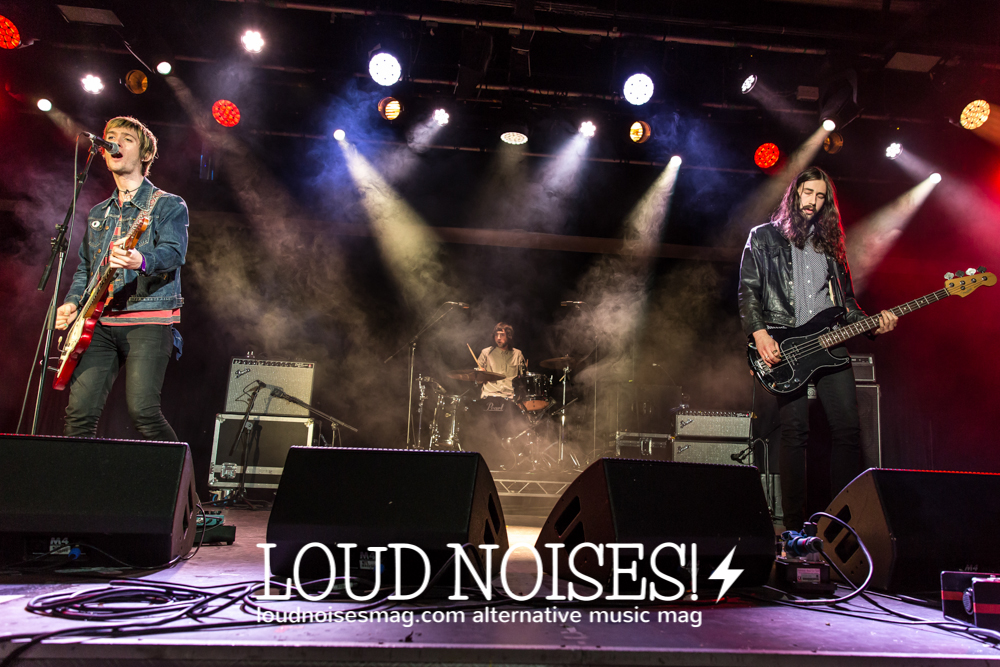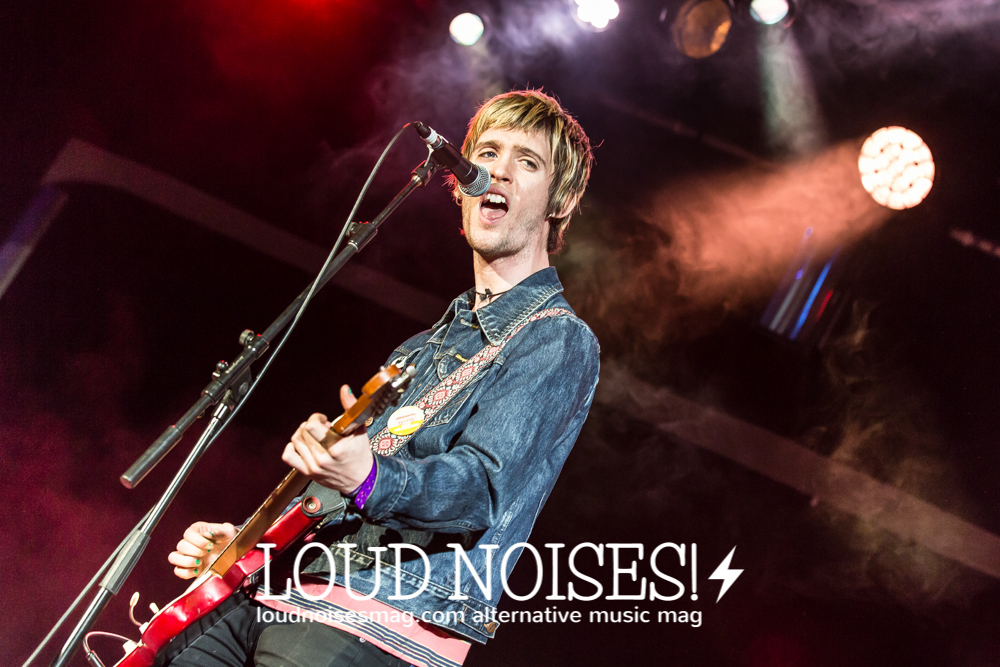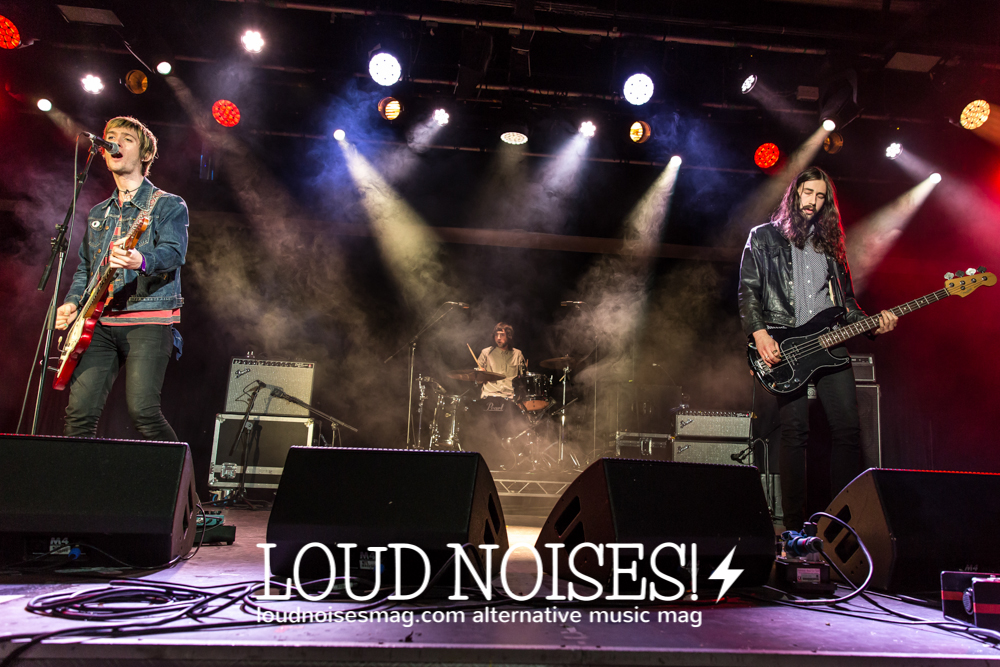 Joanna Gruesome were energetic and full of punk attitude, although they didn't really interact with the crowd so much as some would have liked, favouring their backs to the audience.
FEWS brought us more twangly indie noises, their single 'The Zoo' a particular mathletic triumph, check it out here:
Jaz Coleman of Killing Joke gave a great Q&A session after the screening of 'The Death & Resurrection Show' which charted their history since their invocation on 28/2/79 when they started working their magic musically. On his band mates he described how "the guys have that right side brain capacity to understand wider ideas ... they're an inspiration and they make me laugh my head off". He described how there is great interaction in the band with debating and philosophising, Jaz continued, "there's only one philosophy and that's freedom ... people are being moulded into a hive mind at the moment ... governments of today don't like the arts as they are a hotbed of dissent". Ever political he told us he was still angry about Iraq and that he thinks Tony Blair should be in prison, "the only way to make effective change is to change ourselves". Jaz sees Killing Joke's legacy as self-education, that everyone can achieve mastery with your "true will", a gift he hopes each and every one of us will discover. When asked if he has a favourite period of Killing Joke, he answered "yes, it lies ahead" we can't argue with that ... their intense performance delivered with menacing expressions and a great deal of air- punching were testament to their ongoing longevity as highly relevant and influential industrial noise rock legends.
Best entrance on-stage of the whole weekend goes to Cat's Eyes who came out to the grandeur of the Twin Peaks theme tune, complete with trombone and choir ladies all in matching black leathers. Cat's Eyes are classically trained multi-instrumentalist Rachel Zeffira and Faris Badwan of The Horrors, and they played a great haunting and moving set, yet fun in its drama. Their song 'Chameleon Queen' has a hint of Pachelbel's Canon set over a Divine Comedy vibe ... their sound is totally unique and they obviously sway each other with various styles and influences. Faris reportedly introduced Rachel to the 60's girl group sound which is particularly relevant on the fabulously retro 'Be Careful Where You Park Your Car' check the track out here:
Great acts, lovely staff, fantastic food, we really can't can't fault it - a great value boutique festival with all the comforts of home and an eclectic line-up with something for a whole spectrum of alternative tastes. Same time next year then?